OVERVIEW POSSIBILITIES
WHO ARE WE
Since 1991, Culturama has been promoting both highlights and more hidden aspects of Brussels. Our passion made us create some 40 citywalks, all sorts of bustours and discoveries suiting everyone's taste.
We were invited by Cultural Editors to develop a literary walk, while we are also cooperating with Brussels' cultural heritage organisations, offering them thematic walks and tours.
Young and old, and disabled people can enjoy the experience and taste of Brussels through walks, tours or visits to one of the fourteen Brussels' musea.
OVERVIEW OF POSSIBILITIES
1. Walks in the center of Brussels City
2. Walks in the other neighbourhoods of Brussels, surrounding the central pentagon
~*~*~*~
The pride of Brussels: Horta & Art Nouveau.
A walk in the inner city of Brussels, along Bozar (Palace of Fine Arts, including a visit of the interior of the building), along the Central Station, the MIM (Musical Instruments' Museum), the former Niguet store, today the flower shop of the world famous flower-designer Daniel Ost and last but not least we pay a visit to the jewellery shop of the Wolfers' family. We end this walk in the Museum of the Belgian Cartoon, where – if arrangements have been made before – a drink will be offered.
Duration: 2h 30
~*~*~*~
Brussels, a world of fantasy: strip walls.
A walk through the historic part of the lower town.
The main theme of this walk implies the wide variety of mural paintings applied by the organisation 'Art Mural' , in a radius around the Grand Place, Stock Exchange Building and the Cathedral of St. Michael and St. Gudula.
We will discover famous comic characters like Guus Flater, Nero, Tintin, the Scorpion and others. Our attention also goes to strip cartoon shops, to Brussels' remarkable buildings and monuments , present in comic strips or represented as strip characters themselves in this urban context. We will also notice some of the many strip cartoon musea in the city of Brussels.
Due to the limited duration of this walk, we finish at the Grand Place instead of the Museum of Belgian Cartoon.
This walk will be illustrated by real comic albums, brought by the guide!
Duration: 2h 30
~*~*~*~
Artistic walk in Brussels' Underground Stations.
You are invited to pay a visit to Belgium's largest 'open air museum', an exhibition of more than 60 artworks in most of Brussels' Underground stations. The Brussels' Underground network is a fairly recent realization . The former Minister for Public Works, Alfred Bertrand, launched the idea to create inspiring and pleasant Underground Stations where travellers could be confronted with modern art in a very spontaneous way. Moreover these artworks are meant to function as landmarks in the different stations.
Many current Belgian artist are represented such as: Roger Raveel, Edmond Dubrunfaut, Hergé, Paul Delvaux, Octave Landuyt, also different disciplines, trends and foreign artists are present.
Duration: 3h00.
~*~*~*~
WOMEN'S WALK.
We go for a walk through a large part of the historic city of Brussels. Meanwhile we concentrate on various topics, all referring in one way or another to women. As a start we make clear in what way female rights evolved in Belgian history. Furthermore we will talk about events, anecdotes, political projects, art projects, historic female figures, statues, schools, bookshops that played a role in the history of women's empowerment and in the history of the female sex plain and simple.
As the walk covers a fairly large area and as there is so much to see and talk about the average duration is about 3 hours. On demand we can work out a shorter trail.
~*~*~*~
100 Faces of Brussels.
We can start this citywalk, full of pleasant surprises, at any place in the historic citycentre. Walking through the historic part of the town, that is also home to thousands of people who come to work or shop here, we are telling the story of how Brussels came into existence and how it became a commercial and political centre throughout the ages.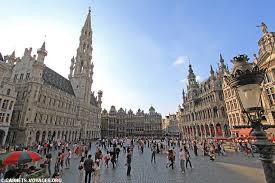 Grand Place © Culturama
Of course we will pay attention to new urban planning, to cultural initiatives, to places where you can enjoy Belgian cuisine, or where you can taste the best beers of Belgium.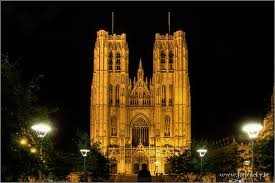 Cathedral © Culturama
A grasp of facts and things we might encounter during this walk (depending on the starting point):
Botanical Garden , Congress Column, Pachecobuildings, facts and figures about Brussels, Cathedral, Waucquez Warehouse/ Belgian Comic Strip Centre, Wolfers' Shop, Galeries Saint-Hubert, Belgian Chocolate, theatre Toone, Grand Place, Place Saint Géry, Dansaert District, the old Fishmarket, Belgian Stock Exchange Building, Manneken Pis, …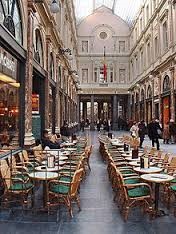 Galeries Saint-Hubert © Culturama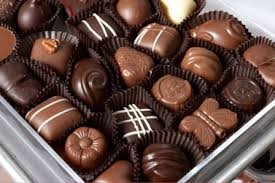 Belgian Chocolate © Culturama
~*~*~*~
Brussels, Capital of Art Nouveau.
As well as being a city for shoppers, gourmets and museum enthusiasts, Brussels boasts a great artistic legacy from its period as one of the main centres of the Art Nouveau in the world.
We start our guided walk with an extensive visit to Horta's private house, that has now become the Horta Museum.
Victor Horta was the main architect and precursor of Art Nouveau, Horta's work, known for its swirling ironwork, elaborate masonry and revolutionary use of natural light, can be seen at his former home. We are impressed by the striking façade but particularly charmed by the unique and refined interior of the house .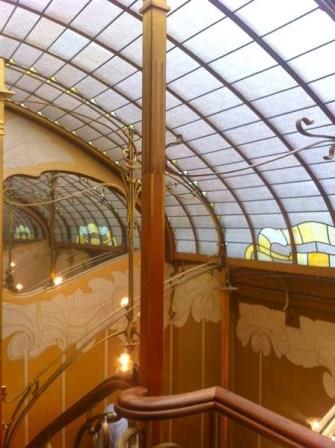 Horta museum © Culturama
After being introduced into the World of Victor Horta, we leave for a walk through a quarter of the district of Saint-Giles, looking for a few other masterpieces of Art Nouveau in Brussels .
- The house of Paul Hankar
- The Ciamberlani House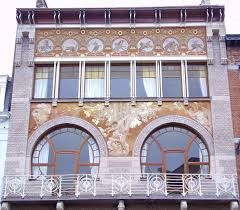 Ciamberlani House © Culturama
- The Hôtel Tassel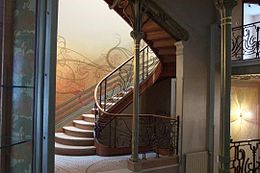 The Hôtel Tassel © Culturama
- The Solvay House
~*~*~*~
Conducted Breugel walk in the heart of Brussels.
Pieter Bruegel the Elder was one of the most important painters of the 16th century. Initially he made etches and drawings and after his trip to Italy he started painting from 1559.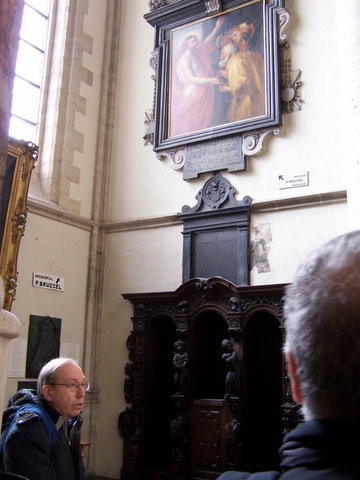 As a result of his marriage he moved once and for all from Antwerp to Brussels where he moved into the house of his father-in-law, Pieter Coecke from Aalst. There is a house, in the Marolles, which was later on lived in by Teniers, that will be restored by 2019.
&nbsp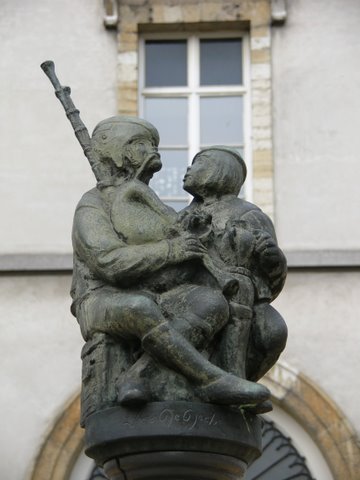 In Brussels Pieter Bruegel went through a very creative and at the same his most prolific period. After his death in 1569 his works were very coveted. The demand exceeded the number of original paintings; Bruegel's canvases were often copied, even his two sons did so with many of his works.
This walk leads us through the Marolles with its folksy cafés, the flea-market and the many step-gables built in the 16th and the 17th centuries. Via the Bruegel house in the Hoogstraat we walk on to the Kapellekerk in which Bruegel married and was buried. Then we proceed to the Upper Town where, under the Royal Square, we explore the site of the former Court, Emperor Charles's Coudenberg Palace.
We also have a stop at other remarkable little streets, preserved town palaces of courtiers and remembrance plaques. No doubt Bruegel walked around here. A short visit to the Bruegel room in the Royal Museums of Fine Arts and a review of the available paintings rounds off this town walk esthetically.
Duration of the walk: 3 hours.
~*~*~*~
City Tours by coach - Sightseeing tour of suburb.
Brussels is mostly known for its historical, medieval center. The Grand-Place and its surroundings are protected by the Unesco. This part of the city has mostly been rebuilt after the destruction by the army of king Louis XIV of France in 1695. Today there are still many lovely markets, old docks, small streets and Gothic, Baroque and Neoclassical buildings. In this part of the city and also in the Marolles (quarter of the working class) different types of buildings and a mix of housing, shops, museums, churches and parks can be seen.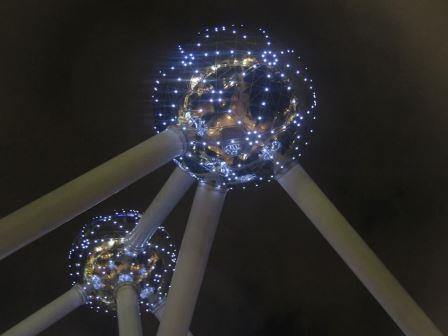 Atomium by night © Stephanie Raes
But Brussels is also a city of urban renewal, of modern architecture and of many communities, quarters and institutions. The urban growth started in the 19th century. Brussels now consists of 19 separate boroughs. These are partly autonomous, partly residential, partly commercial, luckily surrounded by green. Some suburbs are famous for the Modern Style (Saint-Gilles, Schaarbeek, …). There is also the European Quarter with the European Parliament, the Luxemburg Station, the European Council Building … Other areas are famous for beautiful examples of interbellum architecture, buildings of the fifties and post-modernism or for their multicultural population.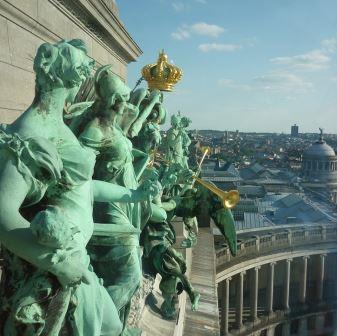 Detail of Arc in Cinquantenaire parc © Stefanie Raes
A walk in one quarter/ district or a city tour of several quarters is possible.
"Kleine Zavel" © Stephanie Raes
Important to know
In the second half of 2015 a new traffic plan has been established, which includes an entirely different traffic situation in the inner city.
The pedestrian area in the historic city has been widely extended and works to refurnish streets and avenues are still in progress.
Moreover, most of Brussels' tunnels that were built in the period of the ´58 World Fair, or in a later period (around 1989) require urgent renovation or repair.
Renovation works on the Leopold II tunnel started in May 2018 and will take three years, which means this tunnel will be closed during the summer months (July and August) and in the rest of the year from Sunday until Thursday.
The other tunnels (Reyers-Montgomery and Reyers-Meiser) will also be renovated, works started in May and will last until the beginning of 2019.
These repair works may cause that the traffic situation may change unexpectedly so that above-ground traffic will also be hindered. We feel very sorry for this but obviously our organization cannot be held responsible for this nuisance. Our guides are trying to cope with the situation and will do their utmost best to assist the bus driver to find his way through the busy city of Brussels.
Duration: circa 3 hours
~*~*~*~
Conducted Breugel walk in Pjottenland.
In Pajottenland, Dilbeek, Anderlecht ( commune of Brussels )
Pajottenland near Brussels is called the Tuscany of the North. Here Pieter Bruegel the Elder often came to walk and to sketch. Many buildings and landscape elements were later on, in his studio, incorporated in his paintings.
Recently a 8 km foot-path and a 45 km bicycle route has been laid out through Dilbeek, Itterbeek and Sint-Anna-Pede. Along those two routes there are 19 weatherproof enamelled panels with reproductions of Bruegel's most important canvases.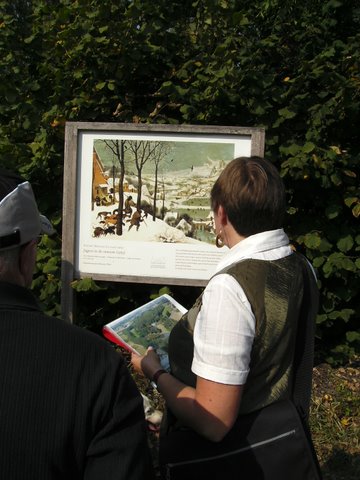 One can equally enjoy nature and art, still recognising certain elements of Bruegel's paintings. Three elements invariably come back in these impressive stories: the earth ( hilly Pajottenland ), mountains ( memories of his trip to Italy ) and water. Feasting, resting or working peasants fill the religious or the civil scenes and the myriad of summer and winter landscapes. Bruegel was a grandiose narrator and as a talented painter he mastered several styles. Especially churches of the merger commune Dilbeek, the watermill of Pede and buildings in Anderlecht can be seen in many paintings.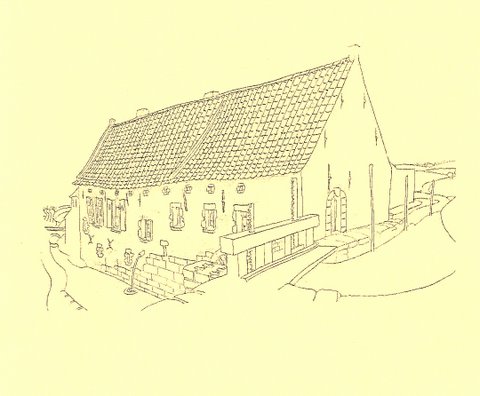 Visiting this openair-museum is as travelling around museums all over the world. Bruegel's canvases were already circulating worldwide in the 17th century. Nowadays they are housed in various foreign and domestic museums. Even so, Bruegel still remains a mystery to us…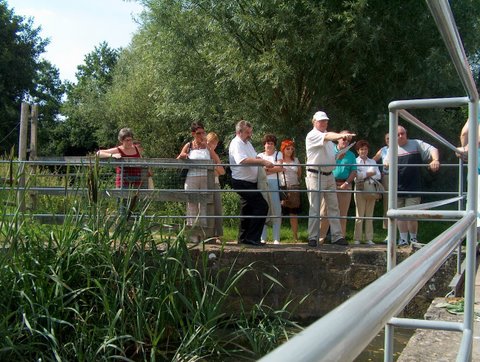 Duration of this walk: 3 hours.
The Bruegel Open-Air Museum – the starting point of the walk being the church of Sint-Anna-Pede – is easily accessible by car, by regular bus 118 ( from the South Station/Gare du Midi ) and by coach.
~*~*~*~
Yoko Mori, the Japanese Bruegel expert.
1. What was your impression of the Open Air Museum in Dilbeek?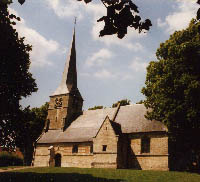 Church of 'Sint-Anna-Pede'
I think it is very good idea visitors can enjoy the similar landscape in Bruegel's paintings. The water proof reproductions are very useful to think how Bruegel might have been wondering in this area and might have been evoked to paint the seasonable landscapes with peasant labors of months. I already knew Sint Anna Pede and Gaasbeek with hilly field in 1970, because Dr. Roger H. Marijnissen took me by his car. But some of landscapes with small winding river, apple trees and pond was the first time for me to compare the spot with "Peasant and a Birdnest".
2. What is the interest of Pieter Bruegel the Elder in Japan?
I wrote an article in 2005 "Appreciation of Bruegel in Japan," Japan and Belgium-Four Centuries of Exchange, The Commissioners-General of the Belgian Government at the Universal Exposition of Aichi, pp.386-395. You can read my article either in the Culture Center of Japan, Japan Embassy in Brussels, or BR (Royal Library) in Brussels. I think Japanese is the nation outside of Europe who mostly loves Bruegel. Japanese appreciates the changes in the seasons, its nature and working peasants in the fields which are found in Bruegel's paintings. Also Japanese sees in Bruegel's paintings as the heart of Europe or archetype of European Folk Culture.
3. What personally do you value about his paintings?
There is no comparative painters in the history of art who painted the folk culture like proverbs and feasts, children games and peasant's activities in such unique manner. There were painters depicting peasant life and customs but not with the high artistic level. Bruegel changes his contemporaries to observe what are real value as human beings, not occupations, social classes, intellectual levels, but humanity. Especially Bruegel was interested in various countenances (faces) of peasants as an artist who really worked very hard in order to bring the harvest being given by the God to both high society and citizens. God once appears as the gardener ( peasant) as you know.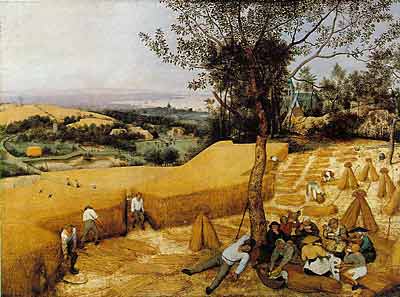 I thank you in advance for your kind cooperation, I think no other artist evokes modern social problems such as the loss of children games, massacre of people ("Triumph of Death")), pride and vanity("The Tower of Babel") Bruegel painted. He is not the artist of the 16th century, but he lives with us together.
I published my Japanese new book titled Looking for Bruegel:The Power of Folk Culture in Feb. 2008. My art essay book is dedicated to Dr. Roger H. Marijnissen. I received several bookreviews and book critics mentioned my birthplace, Niigata where one has heavy snow in winter and rich rice field which might have riminded me of Niigata while I studied Bruegel in Belgium.
~*~*~*~